Welcome to my website! It was designed to showcase what I've learned about family history over the last five years or so. While I'm certainly not a "pro," I've learned quite a bit since I started researching and want to share some of my knowledge. As time goes by, I'll focus on some of the family groups listed below. I've tried to be as careful as possible, but there are bound to be mis-statements & errors in my material. Be sure to do your own research as well. If you find errors, please let me know so I can get the best information out to others. If you want to contact me directly, click here. You can view my "in progress" family history file at the GenCircles website if you're interested. In the meantime, enjoy my site today . . . and please visit again!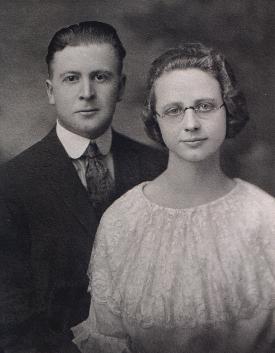 Loren Lloyd Arnett & Marie Mafie Rosencrans - Wedding Photo - June 1922 - Wenatchee, Washington
My paternal grandparents are shown in the image on the left. My grandfather was Loren Lloyd Arnett, born in 1900 in Cherokee Territory. Lloyd's ancestors lived in east Tennessee, Missouri, and Oklahoma before moving to Oregon in the early 1900's. My grandmother Mafie Marie Rosencrans Arnett was the daughter of Benajmin Tolbert Rosencrans and his wife Eliza Jane Bliss. The progenitors of the Rosencrans family in America were Harmon Hendricks Rosenkrans and his wife Magdelena Dircks, who lived in New Amsterdam in the 1600s. Marie's mother Eliza Bliss was a descendant of Thomas Bliss and Margaret Hulins, immigrants from England who resided at Hartford, Connecticut in the mid-1600's. After Thomas's death, Margaret and most of her children moved to Springfield, Massachusetts.
My mother was the daughter of Elmer Miller and Lela Emoline Lile. Elmer was the son of two Swedish immigrants -- Samuel Bengtssen Miller and Wilhelmina "Minnie" Blomgren -- who met and married in Walla Walla, Washington before moving to eastern Oregon shortly after 1900. They farmed in Wallowa County near Enterprise, then moved to Cove in Union County, Oregon where Samuel died in 1925. Minnie, the family matriarch, died in LaGrande, Union County, Oregon in 1964 at the ripe old age of 96. Lela Emoline Lile Miller was the daughter of George David Franklin Lile, the only surviving son of Isaac Lile (Lyle) and his wife Sarah Caroline Ellis, and George's wife Sarah Emoline Clayton, daughter of Daniel Clayton and Cyrene Jeraldine Moore. The Claytons and Cyrene's parents, William and Priscilla Ayers Moore, came to the Walla Walla Valley by wagon train in the fall of 1862. Isaac Lile arrived in Walla Walla a few years earlier and is believed to have established the first bootmaker and cobbler's business in the young settlement. Sarah Caroline Ellis (Isaac Lile's wife), her widowed mother, and many members of her extended family came to the Walla Walla Valley from Mahaska County, Iowa in a wagon train led by Captain John K. Kennedy.
Samuel Bengtssen Miller, his wife Wilhelmina Blomgren, and Family about 1920

Meri's Family Lines include:
ARNETT, ASH, AYERS and AYRES, BENGTSSEN and other Swedish patronymics, BIGGS, BLISS, BLOMGREN, BURT (Henry Burt of Springfield, Massachusetts), BUTT, CART (KARG), CLAYTON, COFFEE, COX, DEVER (Pennsylvania & Kentucky), DISHMAN, ELLIS, FARMER, FRY or FREY, GRAVES (Capt. Thomas Graves of Jamestown), HAYCRAFT, KELLY of Berkeley County, (West) Virginia and Nelson County, Kentucky, LEEDOM (John Leedom of Ireland), LILE, MARSHALL (Capt. James & Elizabeth Marshall of Rockingham County, Virginia), MOORE (Thomas & Eunice Bell Moore of Washington & Greene Counties, Pennsylvania), MOUTRAY, MURRY, REED, ROSECRANS (ROSACRANTS), SEATON, SOULE (George Soule, signer of Mayflower Compact, through his promiscuous daughter Elizabeth), WATSON, WEEDMAN, WELLS and many others.